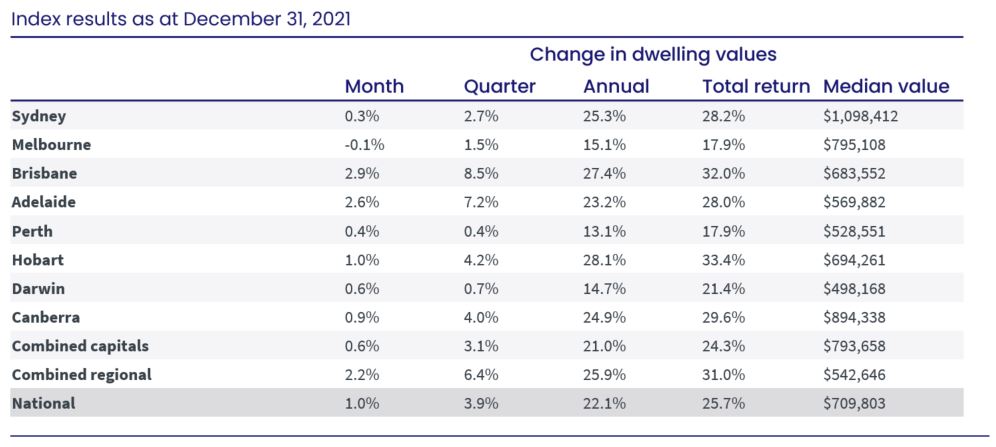 The growth momentum slowed down sharply in Sydney and Melbourne. Both cities recorded their softest reading since October 2020. A surge in fresh listings took the heat off in these cities.
But there were no signs of slowing growth in Brisbane, Adelaide and regional Queensland. CoreLogic research director Tim Lawless explained, "These regions show less of an affordability challenge relative to the larger capitals, as well as better support for housing demand with Queensland, in particular, showing strong interstate migration. Additionally, we haven't seen the same level of supply response seen in other regions, with the trend in advertised supply remaining well below the average in these markets."
What Happened To The Property Market In December 2021?
Housing values across regional Australia were up 6.4% in the three months to December, compared with a 5.1% rise in the September quarter.
The upper quartile of the property market led the growth slowdown. Across the capitals, the upper quartile values were up 2.6%, compared with a 3.7% rise in the lower quartile and middle of the market.
The number of new listings added in December was 21.4% higher than the five-year average. This demonstrated strong vendor confidence, quick selling times and high auction clearance rates. Buyers benefitted from more choice and reduced urgency.
Gross rental yields fell to a record low of 3.2% in December. Every capital city except Perth and Darwin had record low yields. Sydney and Melbourne experienced the lowest yields, at 2.4% and 2.7%, respectively.
It was an unprecedented year for Australia's property market. Even with low stock levels, CoreLogic estimated 653,000 house and unit settlements over the calendar year. This is the highest number of annual sales on record.
As we usher in the new year, let's see what 2022 might have in store for the property market.
Property Market Predictions For 2022
According to CoreLogic, in 2022, property prices will continue to rise at a lower rate. First home buyers could be priced out, while investors might turn their attention to rental yields once borders reopen.
Alan Hemmings, CEO of Home Loan Experts, further adds, "I do expect price increases to continue, even with more stock coming onto the market. We should see migration increase, which will continue to drive competition for property and keep prices up."